VISION WIDE TECH CO., LTD.
5-Axis Bridge Type Machining Center
FA + S8 Series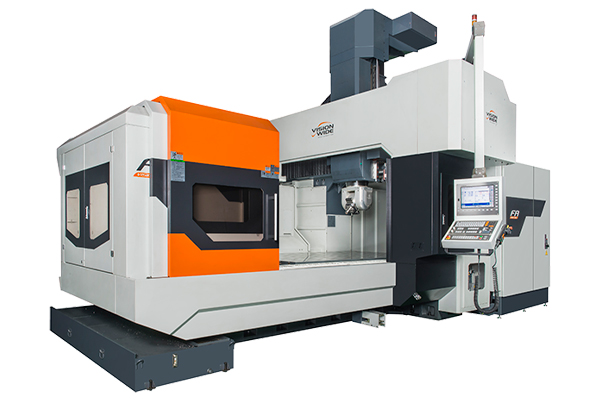 FA series, the first 5-axis bridge type CNC milling machining center of Vision Wide, was released in 2014, and it provided excellent 5-axis simultaneous accuracy performance for 5-axis machining in mold cutting, highly precise contour finishing, milling, drilling, and tapping.

Vision Wide manufactured the 5-axis machining center to shorten tool displacement travel and cutting process effectively, and to extend tool lifetime and offer the best choice for composite angle machining. FA series had excellent dynamic performance on XYZ axes and equipped high accuracy 2-axis head to achieve 5-axis simultaneous accuracy performance.

Structural rigidity was optimized by double column/bridge type structure design enabling wider machining range.
5 axis dynamic rotation synchronization accuracy (TCPM) 0.04mm
Auto measurement compensation for rotation axis accuracy
Spindle vibration lower than 1 mm/sec
Auto measurement compensation for tool accuracy
Not affect by spindle thermal variation and environment temperature change, thermal elongation less than 0.02mm
Multi-axis synchronous head machining accuracy to meet the demand of parts processing

Model
Unit
FA-2123
FA-2623
FA-3123
Travel
X axis
mm
2,100
2,600
3,100
Y axis
mm
2,300
2,300
2,300
Z axis
mm
800
800
800
Table
Dimension
mm
2,000 x 1,500
2,500 x 1,500
3,000 x 1,500
T-slot (Dimension x Number x Pitch)
mm
22 x 9 x 160
22 x 9 x 160
22 x 9 x 160
Max. table load
kg
8,000
9,000
10,000
Spindle
Spindle motor (cont./30 min rated)
kW
20/26
20/26
20/26
Spindle speed 
rpm
20,000
20,000
20,000
Spindel taper
-
HSK-A63
HSK-A63
HSK-A63
Feed
Cutting federate
mm/ min
1-10,000
1-10,000
1-10,000
Rapid traverse
m/min
X:24 Y:20 Z:15
X:24 Y:20 Z:15
X:24 Y:20 Z:15
Accuracy
Positioning accuarcy
(JIS B6333 /ISO 10791)
mm
±0.005 / 300,
±0.008 / full travel
±0.005 / 300,
±0.008 / full travel
±0.005 / 300,
±0.008 / full travel
mm
P0.016
P0.016
P0.018
Repeatability accuracy
(JIS B6333 /ISO 10791)
mm
±0.002
±0.002
±0.002
mm
Ps0.015
Ps0.015
Ps0.015
ATC
ATC capacity 
Vertical
pcs
24 ( 32 / 40 OPT.)
24 ( 32 / 40 OPT.)
24 ( 32 / 40 OPT.)
Others
Machine gross weight
kg
31,000
33,500
38,500
Max. space (LxWxH)
m
8 x 8 x 4.5
9 x 8 x 4.5
10 x 8 x 4.5

Standard Accessory & Function

HEIDENHAIN TNC640 controller
Spindle 20,000rpm with tool shank HSK-A63
Blum TC 60 auto measurement compensation of rotation axis accuracy
HEIDENHAIN DCM (Dynamic Collision Monitoring) function
2-axis head central control and monitoring protection system:
Spindle cutting vibration protection
Spindle and motor overloading protection
B/C rotating motor overloading protection
Spindle overloading protected by software
Spindle and structure temperature thermal compensation system
Spindle cooling device
24 tools magazine with ATC
Centralized auto lubrication system
Independent lubrication oil collector
Air blast through spindle
Wash gun and pneumatic interface
Spindle ring coolant nozzle
Cutting fluid cooling system
Enclosed sheet metal guard (Without roof)
Swiveling arm type operation panel
Screw type chip conveyor on table side
Caterpillar type chip conveyor
Air conditioner for electrical cabinet
Working lamp
Operation cycle finish and alarm light
Movable manual pulse generator
Footswitch for tool clamping
RJ45 interface
XYZ axis linear scale feedback
XYZ axis travel hard limits protection
Remote monitoring software-Standard (Not available for Siemens controller)
Auto power off function
Foundation pads and bolts kits
Adjustment tool and tool kits

Optional Accessory & Function

Sub working table
Coolant through spindle system
Oil mist cooling device
32/40 tool magazine with ATC
Overhead pendulum type operation panel
Chip auger on table side
Chip cart
Independent manual pulse generator
Remote monitoring software-Professional (Not available for Siemens controller)
Auto tool length measurement
Transformer
Enclosed sheet metal guard with roof
Oil mist recycle device
Oil skimmer

FA-Tire Mold

FA- 5 axis head cutting collection

FA-Cytec -Turbine Blades

FA-S8
Vision Wide is a recognized specialist of 5-axis machining centers. We have vast experience and know-how to help clients solve machining problems. We manufacture stable and reliable machining centers via a set of strict production and QC procedures to provide the customers with quality technical service, enjoying profits and growing together with our sales partners. Any suggestion, question or commentary regarding CNC machining, please don't hesitate to submit them to our Customer Service Center.