VISION WIDE TECH CO., LTD.
Quality System
Certificate
ISO 9001:2015 Quality Management System (certificated by TÜV NORD)
ISO 14001:2015 Environmental Management System (certificated by BUREAU VERITAS)
ISO 9001:2008 Quality Management System(certificated by TÜV NORD)
ISO 14001:2004 Environmental Management System (certificated by BUREAU VERITAS )
Machinery Directive:2006/42/EC
Electrical Safety:EN60204-1:2006
Low Voltage:2004/108/EC
Electromagnetic Compatibility 2004/108/EC (certificated by Safenet, U.K.)
※All above are certificated by PMC(Taiwan) & Safenet (U.K.) CE certificate
Total Quality Management, TQM
TQM (Total Quality Management) is a quality-centered method of management aimed achieves a long-term success via satisfying clients and benefiting all members of the organization and the society with full-staff participation as the foundation of a quality-centered organization.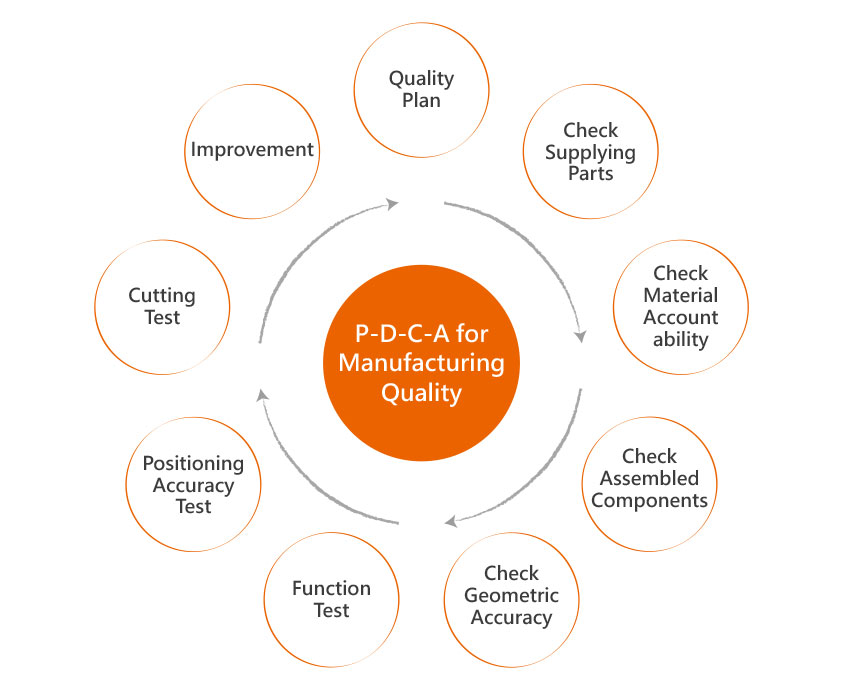 QCC Group
Via forming a QCC, the company is able to improve itself to meet the practical usage demands, which includes: element analysis, implementation plan, data collection, standard stipulation, post-analysis improvement of changes in precision and other technical issues; and applying permutations, causal maps, histograms, stratification, correlation diagrams, control charts, and statistical analysis tables to find the source of the issues.
Abnormalities from all departments are compiled, listed in correspondence, and constantly tracked until they have been resolved.
Quality Engineering implementation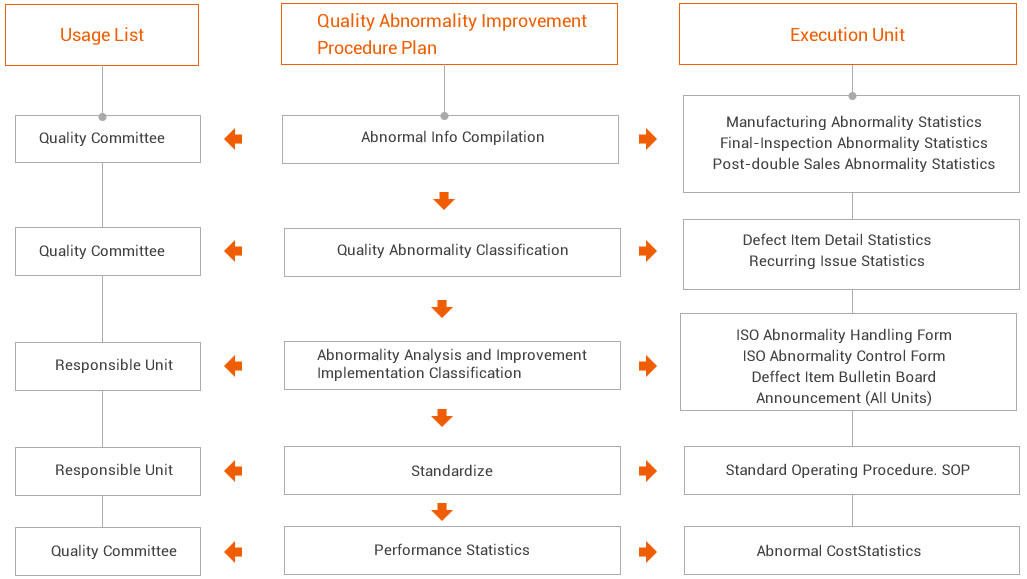 All-staff participation
In order to fully implement all-staff participation and continuous improvements, we have implemented 4S (Sort, Set in Order, Shine, Standardize) from 2008, and have advanced into 6S which are Sustain and Security.
On the aspect of visual management, we utilized statistical graphs, billboards, pictures, colors, signs, and numbers to manage and convey messages, enabling daily management tasks to be smooth. Additionally, it also allows everyone to know what is happening at the moment, and where are improvements needed. To put it simply, it's to directly use what is in contact visually to influence and transit information for management.
The total implementation of TQM system is an effective system we committed to ensure quality, and continue to conform to clients' quality expectations.