VISION WIDE TECH CO., LTD.
No.43, 17th Industrial Rd., Taiping, Taichung 41154, Taiwan
Tel: 886-4-2271 2000
Fax: 886-4-2271 2009
mail:info@visionwide.com.tw
High Speed Double Column Machining Center
SE Series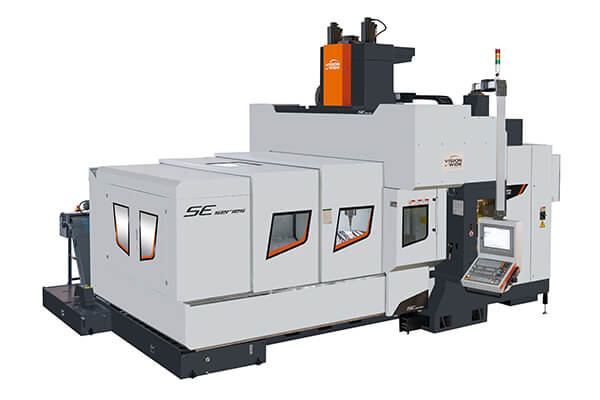 SE series, a 3-axis bridge type CNC milling machining center, newly released in 2017 that Vision Wide proudly produced for precise mold cutting and aluminum cutting.

SE series equips standard 20,000 rpm spindle and special designed of Z-axis to fulfill the need in efficient contour machining that had been testified decreasing 50% cutting time (compared to SF series).

SE series also equips deeper groove to contain bigger diameter chip auger which chip removable capacity up to 2000cc/min.

Without counter-balance on Z-axis
Ultra-wide column structure
High rigidity structure design
Efficient chip removal system
Cutting feed-rate 20m/min
Machining accuracy within 0.05mm

1
MODEL
UNIT
SE-1612
SE-2112
SE-2612
X axis
mm
1,600
2,100
2,600
Y axis
mm
1,200
Z axis
mm
800/1,000(column+200)
Dimension
mm
1,800x1,100
2,300x1,100
2,800x1,100
Max. load
kg
8,000
10,000
12,000
Power (cont./30 min rated)
kW
L:15 / 18.5 (Cont. /S6-40%)
H:18.5 / 22 (Cont. /S6-40%)
Speed
rpm
20,000
Taper
-
HSK-A63
Cutting feed rate
mm/min
1-20,000
Rapid feed rate(X/Y/Z)
m/min
24/24/24
Positioning accuracy(Refer to JIS B6333)
mm
±0.005/300 ±0.008/Full travel
Positioning accuracy(Refer to JIS B6333)
mm
±0.002
Capacity
Vertical type
pcs
24 (32/40 Opt.)
Machine gross weight
kg
19,500
22,500
24,500

Standard Accessory & Function

Fanuc 0i MF controller
Built-in spindle 20,000rpm (HSK-A63)
Z travel 800mm
Spindle oil cooling device
Centralized auto lubrication system
Independent lubrication oil collector
Air blast through spindle
Wash gun and pneumatic interface
Cutting fluid cooling system
24T Drum type tool magazine and arm type ATC
Enclosed splash guard (without roof)
Swiveling arm type operation panel
Spring conveyor on table sides
Caterpillar type chip conveyor
Heat exchanger for electrical cabinet
Working lamp
Operation cycle finish and alarm light
Movable manual pulse generator
Footswitch for tool clamping
RJ45 interface
XYZ axis absolute position sensor
XYZ axis travel hard limit protection
Spindle cutting load software protection
Remote monitoring software-standard (Not available for SIEMENS controller)
Auto power off function
Vision Wide FX graphical user interface
Foundation pads and bolts kits
Adjustment tool and tool kits
Technical manuals (operation, maintenance manual and circuit diagram)

Optional Accessory & Function

FANUC 31 iB;SIEMENS 828D / 840D;HEIDENHAIN iTNC530/640;MITSUBISHI M70 TypeA / M720VS Controller
Built-in spindle 24,000rpm(HSK-A63);14,000/12,000 rpm(HSK-A100)
Direct driven spindle 15,000 rpm(40#);10,000/12,000 rpm(50#)
Z axis travel 1,000mm
Column highten 200/300mm
Spindle ring cutting coolant device (Built-in spindle excluded)
Coolant through spindle system 20/70 bar (Vertical spindle)
Reserved space for coolant through spindle system
Coolant through tool holder
Oil mist cooling device
Oil skimmer
32/40 T magazine arm type ATC
Enclosed splash guard (with roof)
Helically bladed screw conveyor on table sides
Roller conveyor
Chip cart
Air conditioning for electrical cabinet
XYZ-axis linear scale
3-axis independent manual pulse generator
Interface preparation for fourth axis
Spindle load hardware protection
Z axis retract function at power failure
Anti-collision and proecess simulation software
Remote monitoring software-standard
(Not available for SIEMENS controller)
Auto tool length measurement
Auto coordinate measurement
Transformer
Auto warm up

SE-Tire Mold

SE_Aluminum Aeropart

SE_Aluminum Aeropart

SE-Aluminum Mold Base High Feerate Machining

SE-headlight Cavity Finishing (Long tool cutting)
If you are looking for high efficient, high accuracy and durable machining centers, you can trust Vision Wide Tech. Any suggestion, question or commentary regarding CNC machining, please don't hesitate to submit them to our Customer Service Center.