VISION WIDE TECH CO., LTD.
High Speed Double Column Machining Center
SE Series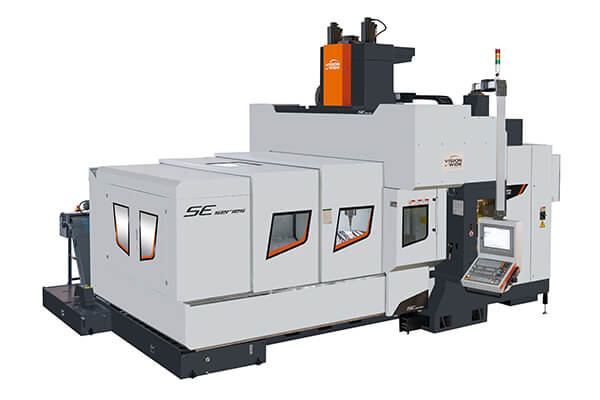 SE series, a 3-axis portal type CNC High Speed milling machine center released in 2017 , and it was designed particularly for mold processing, aluminum alloy machining and mass removal machining.

SE high speed machining center had a 50% improvement in productivity by excellent mechanism and structural performance.

Spindle speed reaches 24,000 rpm
20 m/min of feed rate
Precise contour accuracy
Delicate surface roughness
Positioning accuracy P 0.007mm
Repeatability Ps 0.003 mm
Aluminum alloy chips removal rate 5,000 cc/ min

MODEL
UNIT
SE-1612
SE-2112
SE-2612
SE-1618
SE-2118
SE-2618
SE-3118
X axis
mm
1,600
2,100
2,600
1,600
2,100
2,600
3,100
Y axis
mm
1,200
1,800
Z axis
mm
800/1,000(columns add 200)
800/1,000(columns add 200)
Table dimension
mm
1,500x1,000
2,000x1,000
2,500x1,000
1,800x1,600
2,300x1,600
2,800x1,600
3,300x1,600
Max. load
kg
8,000
10,000
12,000
8,000
10,000
12,000
14,000
Spindle power (cont./30 min rated)
kW
15/ 18.5
15/ 18.5
Spindle speed
rpm
15,000
15,000
Spindle Taper
-
BBT-40
BBT-40
Cutting feed rate
mm/min
1-20,000
1-20,000
Rapid feed rate(X/Y/Z)
m/min
24/24/24
24/24/24
Positioning accuracy(Refer to JIS B6333)
mm
±0.004 / Full travel
±0.004 / Full travel
Repeatability(Refer to JIS B6333)
mm
±0.001
±0.001
ATC tool magazine capacity
Vertical type
pcs
24 (20/32/40 Opt.)
24 (20/32/40 Opt.)
Machine gross weight
kg
19,500
22,500
24,500
20,500
23,500
25,500
28,000

Standard Accessory & Function

Fanuc 0i MF controller
Direct driven spindle 15,000 rpm (BBT-40)
Z travel 800mm
Spindle cooler device
24 Tools magazine with arm type ATC
Centralized auto lubrication system
Independent lubrication oil collector for 3 axes
Air blast through spindle
Wash gun and pneumatic interface
Cutting fluid cooling system
Fully enclosed sheet metal guard (with roof)
Chip conveyor devices on table sides
Caterpillar type chip conveyor / coolant tank
Heat exchanger for electrical cabinet
Working lamp
Operation cycle finish and alarm light
Movable manual pulse generator
RJ45 interface
Footswitch for tool clamping
XYZ-axis Linear Scales
Auto power off function
Spindle cutting load software protection
XYZ-axis travel hard limits protection
Foundation pads and bolts kits
Adjustment tool and tool kits
Z-axis retract function at power failure
Thermal compensation system of spindle
Technical manuals (operation, maintenance manual and circuit diagram)

Optional Accessory & Function

FANUC 31 iB Controller ; HEIDENHAIN TNC 620/640 Controller
Built-in spindle20,000/ 24000 rpm(HSK-A63);10,000/12,000 rpm(50#, HSK-A100)
Direct driven spindle 10,000/12,000 rpm (50#, HSK-A100)
Rapid traverse (X/Y/Z) 30 m/min
Z axis travel 1,000 mm
Column higher 200 mm
Spindle ring cutting coolant device (Built-in spindle excluded)
Coolant through spindle system 20/70 bar(Vertical spindle)
Reserved interface for coolant through spindle system
Oil skimmer
Oil mist cooling device
20 tools magazine carousel type; 32/40 tools magazine arm type ATC
Enclosed sheet metal guard (without roof)
Worktable fluid flushing function
Helically bladed screw conveyor on table sides
Chip cart
Air conditioner for electrical cabinet
Transformer
Reserved interface for 4th axis
Auto tool length measurement
Auto coordinate measurement
Spindle load hardware protection
CE Regulation

SE-Aluminum High Speed Cutting

SE Car headlight Mold

SE_Aluminum Aeropart

SE-Aluminum Mold Base High Feerate Machining

SE-headlight Cavity Finishing (Long tool cutting)
If you are looking for high efficient, high accuracy and durable machining centers, you can trust Vision Wide Tech. Any suggestion, question or commentary regarding CNC machining, please don't hesitate to submit them to our Customer Service Center.